32 Weeks
Accounting Technicians are administrative professionals with a specialized skill set in basic accounting. They play a critical role in any office setting. Students in this program receive instruction in accounting fundamentals, business skills and industry-standard software. Graduates have strong written and oral communication skills for business environments.
Careers
Accounts Payable/Receivable Administrator
Accounting Clerk
Accounting Technician
Bookkeeping Clerk
Receptionist
Administrative Assistant
Executive Assistant
Office Assistant
Practicum
Completion includes a compulsory four-week full-time practicum where students work alongside industry professionals.
Start Dates
January 8, 2024
September 2024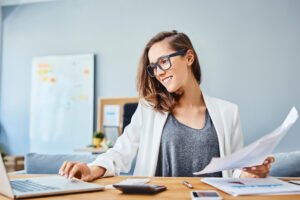 Administrative Office Procedures
An introduction to common office procedures, such as human relations; organization structure and office layout; office technology; front-line reception; aspects of business communication specific to the office professional and record keeping.
MS Office Applications
Prepares students to perform functions common to all Microsoft Windows applications. Elements include the ability to create and manipulate Word, Excel, or PowerPoint applications, modify the display of toolbars and other on-screen elements, use online help, and perform file management, editing, formatting and printing functions common to most Windows applications.
Keyboarding
Improves touch typing skills on a keyboard with a focus on improving speed and accuracy. This course increases job efficiency and understanding of work station ergonomics.
Business Communications
Focuses on the essential skills for basic business writing and professional interaction.  This course also emphasizes the role technology plays in the workplace to enhance communication.
Customer Service
Provides a foundation for customer service, and focuses on building lifelong customer relationships through the development of positive customer care approaches.
Career Preparation
Introduces students to strategies for a successful job search, interview and career management.
Bookkeeping
An introduction to basic bookkeeping practices and procedures. Students gain experience with typical bookkeeping functions, including recording journal entries, posting to ledgers, and preparing a variety of statements.
Financial Accounting
Familiarizes students with basic accounting terms, basic
accounting tools and preliminary accounting processes.
QuickBooks Accounting
Familiarizes students to one of the most commonly used accounting software. This course utilizes a diversity of companies, business situations and realistic source documents to simulate "real" accounting transactions.  Understanding how accounting software processes accounting transactions combined with the student's knowledge of fundamental accounting principles will create competency in using QuickBooks in the workplace.
Sage Accounting
Introduces students to the popular Sage computerized accounting software that many small to medium sized businesses use today.
Introduction to Human Resources
Reviews of the human resource functions that assist an organization deliver value through proper management of the employee life cycle.
Excel for Accounting
Teaches students to streamline repetitive tasks and display spreadsheet data in more visually effective ways using more of Excel's built-in functions to perform complex calculations. Students learn to create charts, use graphics and develop data management skills in an Excel spreadsheet.
Highlights
Learn the fundamentals of accounting and bookkeeping and understand how to apply manual bookkeeping using journals
Understand financial accounting principles and practices
Gain basic computer skills and learn to use Microsoft Office (Word, Excel, PowerPoint & Access)
Learn to use accounting software including QuickBooks and Sage Accounting

Develop written and oral business communications skills
TAKE YOUR FIRST STEPS INTO YOUR NEW CAREER